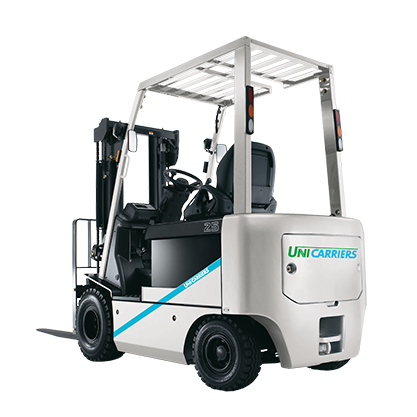 BX
48V electrically powered 4-wheel counterbalance truck
UniCarriers has found a perfect balance for the owner, the operator, and the environment in the new BX Series. Ready to take centre stage in the future of load handling operations, the BX Series features a wide variety of advanced features, such as a fully AC-powered system.
Percharge operating hours are remarkably high, as well as power and travel speeds, resulting in an exceptionally productive forklift. And it's not just the basic performance of these battery powered forklifts that has lifted them to the top of the market.
Right Angle Stacking aisle
The 2.5-ton cushion models have an overall width of 1070mm, overall length to the fork face of 2190mm, and a minimum required right-angle stacking aisle width of just 3300mm*. These impressive dimensions ensure that complex tasks in narrow spaces are simpler, speedier, and accomplished more efficiently. *Pallets (L x W): 800 x 1200 mm (VDI 2198)
High lifting speed
The high capacity AC motor gives the BX Series high lifting speeds, enhancing productivity and helping to get more work done faster. Lifting speed (full load): 435mm/s (1.5t model).
Rollback Control
To prevent the truck from rolling down a slope too fast, the UniCarriers BX Series provides a unique Rollback Control device, ensuring that the truck can reverse only slowly and at a constant speed.
Order now
Contact page
Product Description
Type: Electric counterbalance forklift truck
Lift capacity: 1500 – 2500 kg
Battery capacity: 48 volts