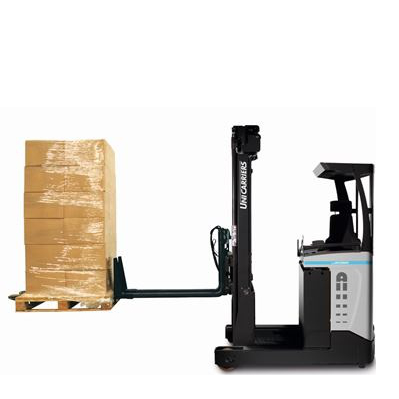 TERGO® UMS-TF/UHD-TF/UHX-TF
Reach truck with telescopic forks
Specially-designed to work in double deep applications, UniCarriers's new generation heavy-duty reach trucks are also available with telescopic forks.
This is stability, performance and ergonomics without compromise – for your warehousing productivity.
Compared with conventional storage, the Tergo reach trucks with telescopic forks require approximately 25% less space for the same storage volume. With special hydraulic fork extensions it is possible to reach two pallets deep from one single aisle. The UMS–TF is the perfect versatile partner in most operations for lift heights up to 8.95 metres. For even tougher tasks, there's the robust UHD–TF that handles loads up to 11.5 metres.
A combination of sensitive controls, the extremely stable mast and chassis add to superior control when lifting and stacking. Angled overhead bars, tilting seat and tilting ProVision mast design with integrated hydraulics, further enhance very good vision for safe and fast material handling.
World-class ergonomics for improved operator performance
The spacious cabin is entirely designed around the operator. The unique mini steering wheel and floating armrest allow effortless manoeuvring during long shifts with a minimum strain on arm, neck and shoulders. The seat and the armrests are easily adjusted to the individual operator – up to seven different parameters can be set.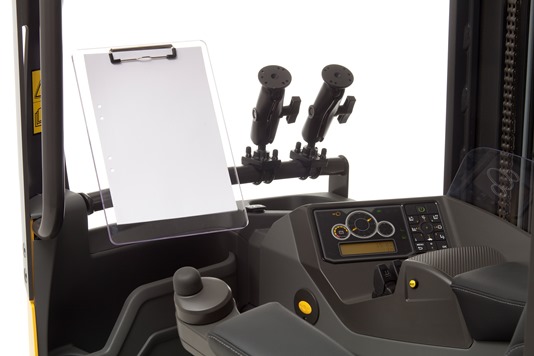 The ProVision mast design further enhances visibility and ergonomics when handling high loads. The separate footstep and a specially designed instep handle make it easy to get in and out of the truck.
Order now
Contact page
Product Description
Type: Reach truck
Lift capacity: 2000/2500 kg
Lift height: up to 12.1 metres