PDP 200
PDP 200 Double stacker with platform
Combining double stacker efficiency with long distance capacity, this new truck is your flexible partner – all the way through the warehouse.
The new PDP 200 is perfectly suited to cross docking operations including loading/unloading, internal transports and double stacking. Standing safely on the operator platform, the operator conveniently handles two pallets per work cycle.
Ensuring superior ergonomics and efficiency, the truck features a ProVision mast design as well as traction and safety enhancing technologies such as a hydraulic Friction Force system and an Anti-Rollback function.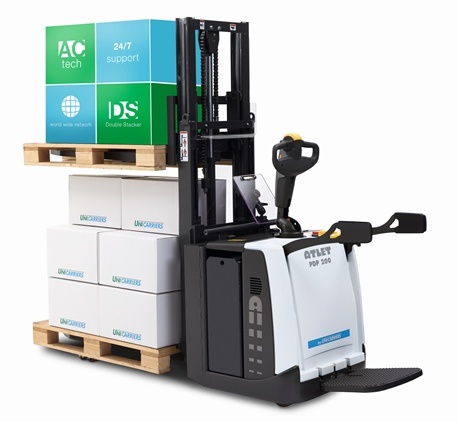 Foldable operator platform with foldable protection bars
Folded down at the operator's convenience, the robust operator platform features efficient damping to provide a safe and comfortable working environment during long shifts. The easily foldable protection bars protect the operator. A range of fixed operator platforms are also available as options.
Order now
Contact page
Product Description
Type: Stacker
Lift capacity: 2000 kg
Lift height: 2.1 metres