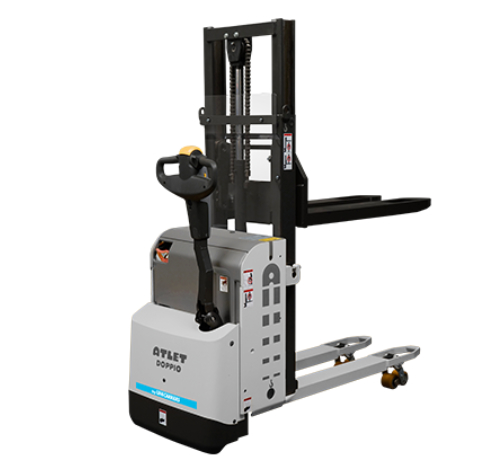 PSD
PSD Compact pedestrian stacker for double-pallet handling
The UniCarriers Doppio PSD is an all-round flexible, double pedestrian stacker.
The Doppio PSD pedestrian stacker is suitable for handling "open" load carriers, loading/unloading on dock levellers, double pallet handling, order picking/replenishment and short distance internal transport in warehouses, supermarkets and production areas. With its narrow chassis it is able to pick up and put away pallets in confined areas.
By adding the optional Tiller-Up drive with the tiller arm in the upright position, the Doppio PSD can work in even tighter areas.
Friction Force technology for all-surface performance
UniCarriers's patented 4-point Friction Force chassis, including flexible connections between forks and motor-chassis, ensures constant drive wheel pressure on uneven surfaces. Multiple drive wheel choices and anti-rollback function contribute to safe handling on ramps and dock levellers.
Order now
Contact page
Product Description
Type: Stacker
Lift capacity: 1250/1600 kg on the straddles
Lift height: up to 2.1 metres