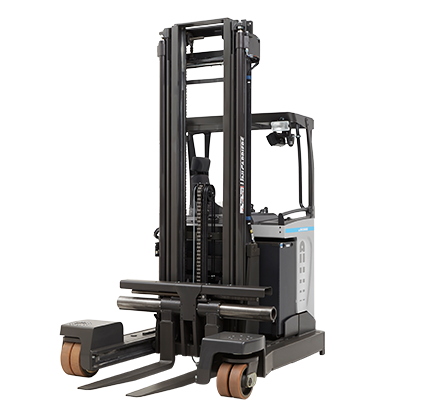 TERGO® UFW
Four-way reach truck
Keeping aisles to a minimum, the powerful multi-directional reach truck Tergo UFW offers flexible handling of long and other bulky goods or pallet loads – with superior ergonomics and comfort.
Tergo UFW multi-directional reach truck is ideal when handling both long loads and standard pallets with a lifting height of up to 9.7 metres. The truck can be driven in all directions with precision and the aisle width can be cut to 2.3–3 meters. With superior acceleration, a top speed of 13 kph and high battery capacity, the truck can be driven intensively with maximum efficiency.
Multi-direction truck
The multi-directional truck allows efficient material handling for a wide range of loads and especially long loads due to the ability to travel sideways. Thus keeping aisles to a minimum even with very long loads. A standard hydraulic fork spreader ensures the load to be handled safely at all times. The synchronic steering system makes it easy to change direction for high throughput.
Watch truck in action on Youtube.
Order now
Contact page
Product Description
Type: Reach truck
Lift capacity: 2000/2500 kg
Lift height: up to 9.7 metres