BROCHURES
Download PDF brochures. Files are stored on manufacturer's websites, so feel free to contact us if any link is broken. Contact us for all detailed information.
Contact us now
UNICARRIERS FORKLIFT TRUCKS
Pallet trucks
PMR
Stackers
Order pickers
Reach trucks
Very narrow aisle reach trucks
Electric counterbalance forklift trucks
Diesel / LPG counterbalance forklift trucks
TRACTION BATTERIES
BRAVI PLATFORMS
Bravi Lite, Leonardo HD, LUI 460, Solo Gyps (English, PDF)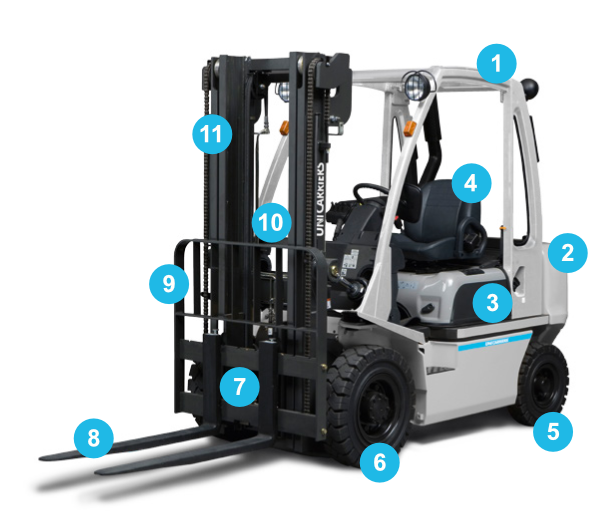 1. Overhead guard
2. Counterweight
3. Engine or battery compartment
4. Operator cabin
5. Steer axle
6. Drive axle
7. Carriage
8. Forks
9. Load protection bakrest 
10. Lift cylinder
11. Mast
WANT TO BUY A TRUCK?
Need a well built and reliable forklift truck?
We offer complete range of Unicarriers forklifts as well as truck renting. Send us a question or purchasing request.
BRAVI Spin-Go on sale!
BRAVI Spin- Go on sale. Great platform for only 5000 eur!
Limited promotion. Call us now, reserve on time.